Best doctors in Colombia for Hair Transplant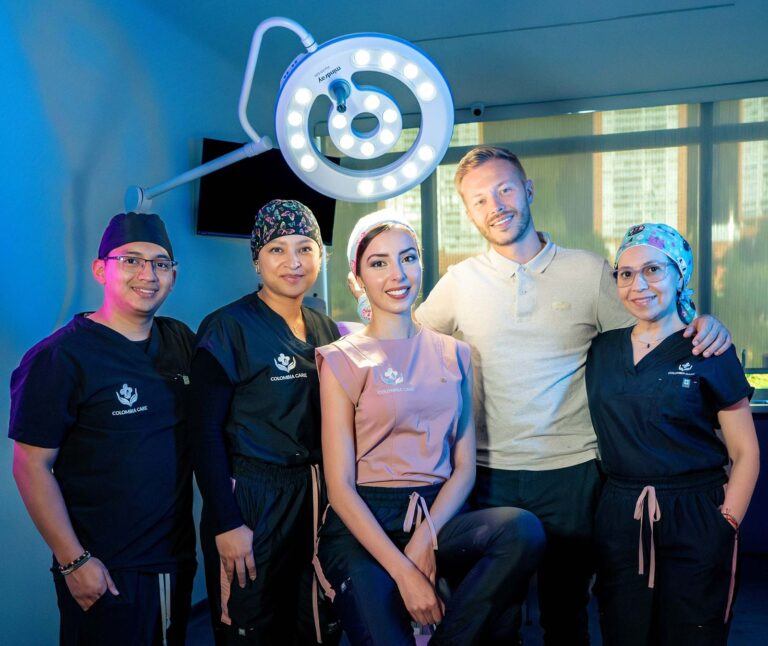 When you choose a hair transplant clinic, you also choose to work with the team that will support you throughout your journey. At Colombia Care Hair Restoration, our highly trained staff takes a human approach and is dedicated to providing comprehensive service from the first call to the last follow-up visit after the procedure. We are committed to ensuring regulatory compliance and providing safety and confidence to each patient. Our team is trained to apply the latest advances in hair transplant procedures, with the goal of exceeding your expectations with experience, safety, friendliness, and trust. Located in the heart of Medellín, Colombia, we are your best choice for hair transplant services in the country.
Our facilities, located in a privileged area of the city for its accessibility and architectural beauty, are carefully designed in order to offer our patients a comfortable, quiet and appropriate envi-ronment in which to not only enjoy your stay but is also conducive to the peace necessary to calmly analyze all the factors related to your surgery. This environment also helps us ensure a very high level of care in the service we offer.
Hair Transplant Experts in Colombia | Bogotá | Medellín
Our Hair Transplant Expert.​
Dr. Natalia Maya places the patient at the very center of the treatment process. She believes that each patient's hair loss journey is unique, and this belief is reflected in her detailed, tailored approach to their care. From the initial consultation, she invests time in understanding the patient's concerns, lifestyle, and goals, ensuring that she fully appreciates the emotional and physical impact of their hair loss.
She considers factors such as the pattern of hair loss, the quality and quantity of donor hair, as well as the patient's age and overall health. Using this holistic information, she creates an individualized treatment plan that aligns with the patient's expectations and needs. Dr. Maya prioritizes clear, open communication, making sure patients understand each step of the process, the expected outcomes, and any potential risks or challenges.
Post-treatment, she remains engaged with the patient, monitoring their progress and adjusting care plans as needed. This 360-degree, patient-centered approach ensures that patients feel heard, cared for, and confident in their journey to hair restoration with Dr. Natalia Maya.
Scientific Technical Advisor
Dr. JUAN CARLOS MALDONADO
PLASTIC SURGERY · RECONSTRUCTIVE

At Colombia Care Hair Restoration, we are proud to offer our highest quality and safety hair transplant service to our patients. Our team of professionals is supported by the advice and technical assistance of Dr. Juan Carlos Maldonado, who has extensive experience and has dedicated his career to researching and developing advanced techniques in hair transplantation. As a result, our institution is recognized for achieving exceptional results that meet the highest quality standards. During consultations, one of our expert professionals thoroughly evaluates the patient, identifies their needs and concerns for a comprehensive approach. All details related to medical treatment, procedure, duration, benefits, and inherent risks of the chosen treatment are discussed thoroughly to ensure that patients have all the information they require to make an informed decision. We encourage our patients to ask questions and express any concerns they may have; we are always available to provide additional information and support.